When I first began breaking two years ago, I insisted that it was just a hobby. But as I began to increase my practice time to six hours a week (not including the hour long commutes I made to and from Bushwick, Brooklyn to the Upper West Side), I began to write about it and called my training "research" to justify time spent/wasted (depending on your perspective).
I've since been published in a few places on the topic. In those pieces the subjects were other b-boys and b-girls. But in this week's
New York Magazine
, I'm the subject of a teeny, tiny profile for a piece called, "Reasons to Love New York 2008. "
Number 24 on the list-
"Because our Schoolteachers Are Such Prim Homebodies."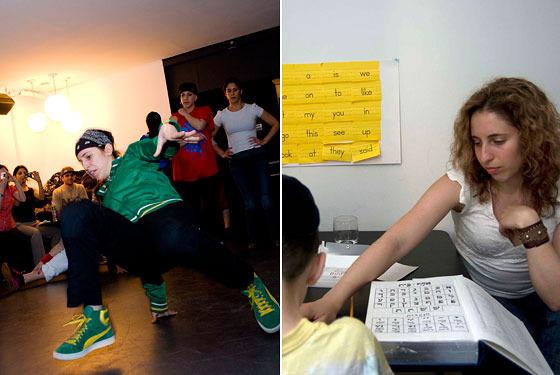 Yes, I get about a hundred words worth of "fame" for being both a Hebrew school teacher and b-girl. I might become better known for my mediocre dance skills than for my writing.
I can live with that.